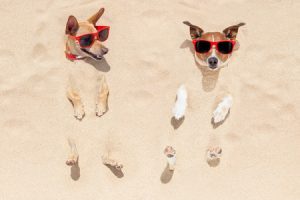 Summer means plenty of time to play outdoors with your four-legged pal. Many dogs love laying out in the sun soaking up the Vitamin D, but it is important to take safety precautions when bringing your pup outside for summer activities.
Here are a few tips for caring for your dog this summer:
Fireworks- The Fourth of July is coming up soon and this can be a very fun time for you but may be extremely stressful for your dog. The sound of fireworks is very alarming and confusing for dogs. If your dog is afraid of fireworks you may want to take them to a doggie daycare where they won't be exposed to the fireworks.
You can also try a natural remedy to help relieve their stress. Lavender oil is a great natural essential oil that helps reduce anxiety in both humans and pets. You can try placing a few drops on their favorite blanket or stuffed animal.
Be Mindful of Overheating- It is easy for your pup to overheat in the summer, so it is important to pay attention to your dog while spending time outside.
Signs of Heat Exhaustion:
Dry/ pale gums
Wobbly legs
Increased drooling
Rapid breathing
Heavy panting
Apply Sunscreen– Just like humans, dogs can get sunburnt too if they are exposed to the sun for prolonged periods of time. Dogs with shorter hair are more susceptible to sunburns so be sure to apply a sunscreen every 3-4 hours when they are outside. Only use sunscreen that is specifically made for pets.
These tips are great to keep in mind as we approach the hotter months of the summer.
Hill Country Pet Sitters Plus has many services to help in your pet care this summer, from private boarding, dog walking, grooming and more! In addition to caring for dogs, we also cater to a wide variety of pets like birds, cats, turtles, and even horses. Visit our services page for more information!