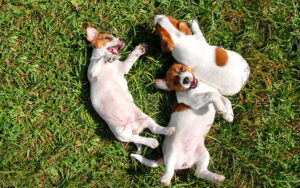 Doggy Day Care centers have been lauded as the be-all and end-all for behavioral problems. From destruction of property to mild separation anxiety, many people use doggy day care as a way to "fix" bad behavior. However, no one knows your dog better than you do. While some pets find day care beneficial, others can become more stressed or overstimulated.
So, how can you tell if your dog would benefit from doggy day care? Read on to find out:
When NOT to Send Your Dog to Day Care
If your dog doesn't like other dogs
Dogs that are naturally fearful of other dogs generally don't do well in daycare. While some mild anxiety is normal (and in fact, daycare can help rid a dog of that mild anxiety), greater levels of anxiety is cause for concern. Dogs that have a greater fear of other animals, particularly older animals, will often become more stressed with prolonged interaction. As such, it's best to keep them home and away from other animals. 
They were rescued from a puppy mill or hoarder
Dogs that were rescued from puppy mills or hoarders are also unlikely to flourish in daycare environments. While they may cling to the group dynamic, the stimulation can be overwhelming to dogs and potentially dangerous for staff.
Your dog is a bit of a bully
If your dog is a bit of a bully around other dogs, then avoid taking them to daycare. Some owners believe daycare will better socialize their dog, but the reality is that this just gives canine bullies a place to practice aggressive behaviors.
When to Send Your Dog to Doggy Day Care
Trainers will recommend doggy daycare for any pets that are vocal or destructive when at home alone. And in cases of mild separation anxiety, daycare is a wonderful option. However, extreme cases of separation anxiety – where the dog has super-bonded with a particular person – can't be alleviated by other dogs or humans.
Most doggy daycare facilities will have an assessment period prior to enrolling your pet. This serves to place your pet in the best daycare group, and also to recommend other options – like private boarding or pet sitting in your home – when appropriate.
To find out what type of boarding arrangements are best for you pet, contact Hill Country Pet Sitters today. We're happy to help!