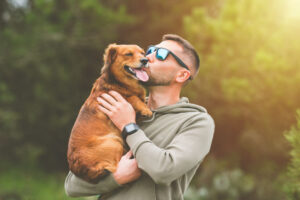 Are you interested in adding a new dog or cat to your home? Before you run out to the pet store and buy a puppy or kitten, you should consider adopting an animal instead.
There are so many benefits that come along with adopting a pet, including the ones we outline below.
You will save an animal's life
According to the Humane Society of the United States, there are almost 3 million dogs and cats that are euthanized throughout the country every year, simply because there is not enough room in shelters for them. By adopting a dog or cat, you can save its life and open up more room for another animal to get the chance to be adopted, too.
You will also save money
Adopting a dog or cat is just about always more affordable than buying one from a pet store. Additionally, adopted dogs and cats are often spayed/neutered and have received at least their initial vaccinations. In some cases, they will even be microchipped. All of this will save you money in the end.
You will help fund services for other animals
While there is a cost associated with adopting an animal, the great thing about it is that the money you pay will be used, in part, to benefit other adoptable animals. You will be doing more than just saving one animal. You could conceivably be saving many animals.
You will feel proud of yourself for adopting
There are all sorts of physical, emotional, and psychological benefits that come along with bringing a new pet into your home. When you couple that with the pride you'll feel after adopting an animal, you will be brimming with happiness and glad you made the decision to adopt in the first place.
Once you have chosen adoption, Hill Country Pet Sitters can help you care for your new pet by providing you with pet care services like sitting, boarding, and more. Call us at 830-624-9284 to get your pet the care it deserves.